Are you still up in the air seeking an Emmental cheese substitute? Then you've landed at the right place. We have compiled a list of 15 top picks to replace this Swiss cheese.
Cheese is the staple in most of our meals, and it's hard to find someone that is not a turophile. Amongst almost 2,000 cheese types, Emmental cheese gains popularity for its perfectly fruity and buttery flavor.
But things can go wrong if you can't get your hands on this cheese for some specific recipes. Worry not. Keep scrolling down to find your best alternatives.
15 Substitutes For Emmental Cheese
Interestingly enough, there are over 1,800 variants of cheese. Each of them has a hidden story behind its origin and delivers a distinctive taste. Today, let us share with you the stories of 15 members closest to Emmental cheese.
#1. Gruyere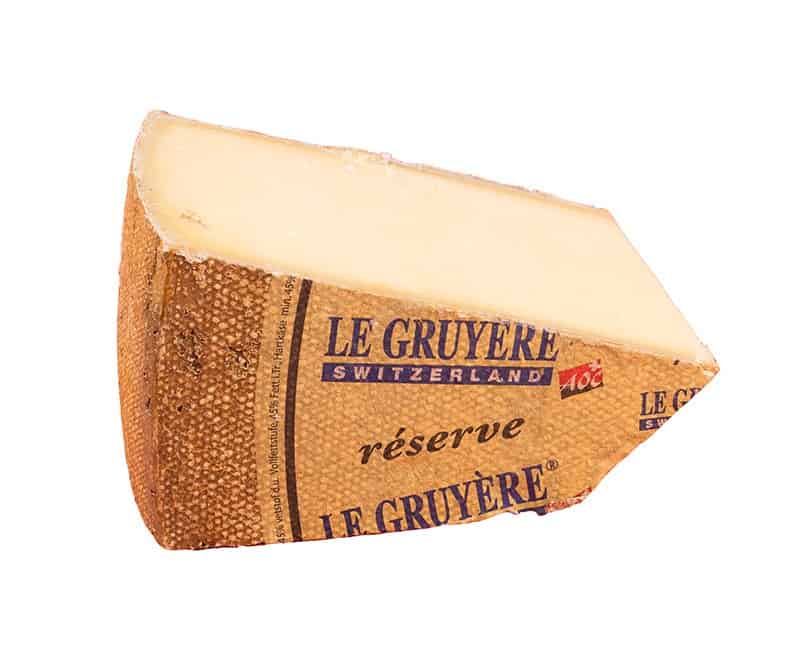 If you ask us the best Emmental cheese substitute, the answer must be Gruyere. It is also under the umbrella of Swiss cheese. Dating back to the 17th century, in a picturesque meadow of Fribourg canton, Gruyere cheese first appeared.
Like its sibling, Gruyere's flavor journey starts with a nutty, earthy tone and ends with a fruity touch. But this cheese is somewhat saltier than Emmental. Its body is dense at first and becomes flaky when it ages, covered with a hard rind.
You can toss Gruyere cheese in salads, pasta, sandwiches, soups, and quiches when the recipe calls for Emmental. It pairs perfectly with ham and chicken. But we recommend serving it with cider or beer rather than a glass of wine as it complements the overall taste.
Gruyere cheese serves 95 mg of sodium – making up four percent of the daily recommended intake, helping your body stabilize the blood pressure. You can also benefit from its vitamin content (A, B12, B6, K), thiamin, pantothenic acid, and folate.
#2. French Comte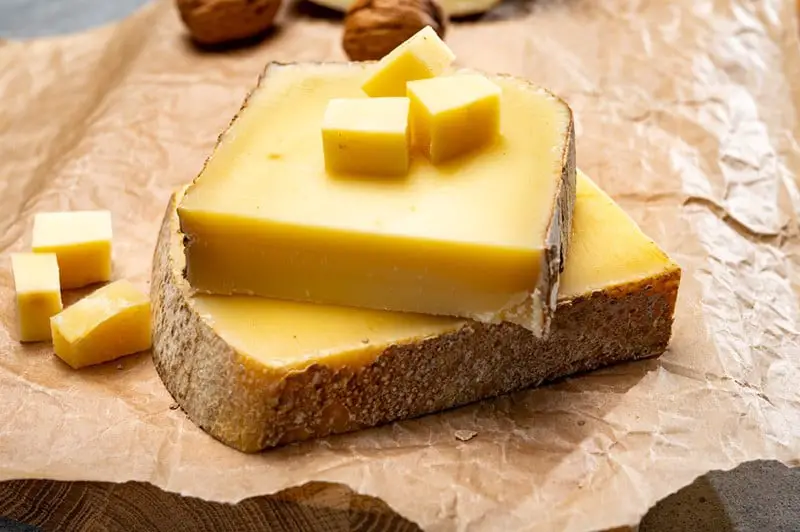 As its name suggests, the birthplace of Comte cheese is France, particularly, in the beautiful Jura Massif countryside. Villagers first produced Comte in the 12th century, and since then, it has been a treasure in this region.
Delight your every single taste bud with a savory, fruity note, bursting with a sweet undertone. Close your eyes and enjoy the aroma of caramelized butter and roasted hazelnuts wafting in the nose. This masterpiece can please any cheese lover.
You can top Comte cheese on pasta, salads, sandwiches, egg dishes, etc. There is boundless creation with cheese recipes. 
Comte is high in protein and offers various amino acids. Interestingly, it brings you all essential amino acids we can not sufficiently produce ourselves. They are vital for healing body tissue, cell construction, and the appropriate functioning of our immune system.
#3. Jarlsberg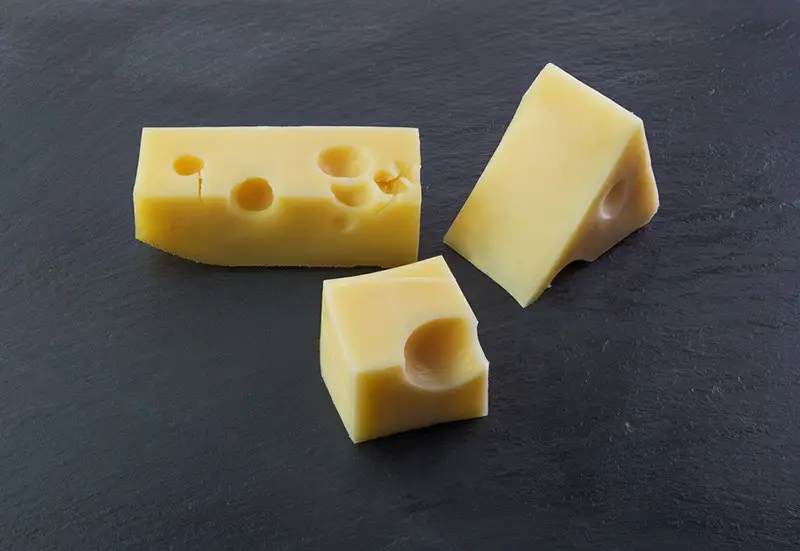 People usually mistake Jarlsberg for Swiss cheese, but it was originally from Norway. It is quite a new member of the cheese family, born in the early 1800s. 
Jarlsberg resembles Emmental with its cherry-sized "eyes," giving it the nickname "baby Swiss." Its taste falls into the sweet side, but it does come with a buttery and nutty flavor like Emmental. 
So, you can use them interchangeably in sandwiches, fondues, pizzas, burgers, and especially hot dishes. The best thing is that Jarlsberg is an all-around cheese for its mild flavor and soft texture. Eating it raw as a snack works just fine.
Jarlsberg cheese is a wise choice in diet due to its lower fat content than regular cheese. Only one ounce of Jarlsberg can satisfy 15 percent of the recommended daily intake of calcium, supporting your bone health.
#4. Cheddar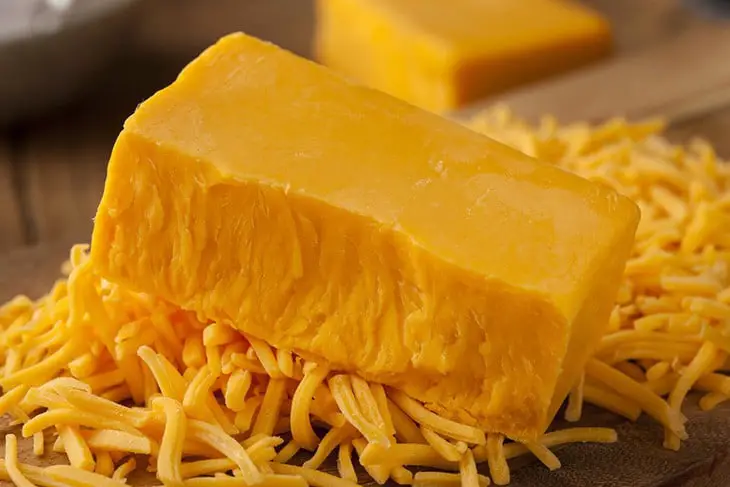 We have to admit that Cheddar coming to this world is a godsend. You will be surprised knowing how it was born. 
Long, long time ago, in a charming town named Cheddar, a farmer had forgotten to pick a milk pail in a cave. And when he came back, it turned out to be a cheese block with a gorgeous golden hue as we've usually seen today.
Similar to Emmental, Cheddar amazes your palate with a sharply buttery punch and a creamy texture. Though Cheddar doesn't come with large "eyes" like Emmental, we still love to top it on salads and baked dishes. Its gorgeous color is indeed an aesthetic addition. 
Cheddar is a nutrient-dense cheese, packed with vitamins (K, A, B2, D) and minerals (calcium, zinc, potassium.) This superfood not only fulfills your energy with high content of protein and calories but also does wonders for your bone health.
#5. Gouda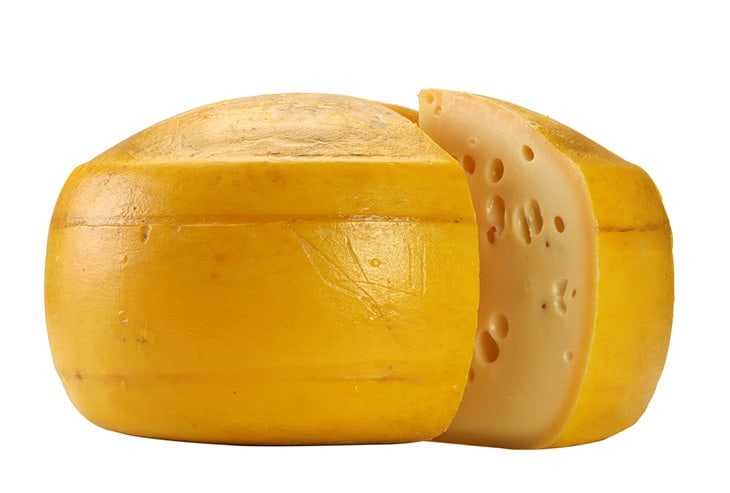 Another predecessor in the cheese family tree is Gouda, contributing a lot to the world's culinary culture since the 12th century. Gouda cheese has its roots in the southern Netherlands.
It spoils your palate with a creamy, nutty, and sweet note, perfectly delivered through a smooth texture. You can add it to sandwiches, soups, fondues, salads like Emmental cheese.  It works well with grapes, wine, and stronger drinks for its sweet tone. 
One ounce of Gouda cheese brings you seven grams of protein, providing energy and helping repair tissues and cells. Calcium found in Gouda prevents blood clots, aids in muscle contractions, and maintains blood pressure.
#6. Parmigiano-Reggiano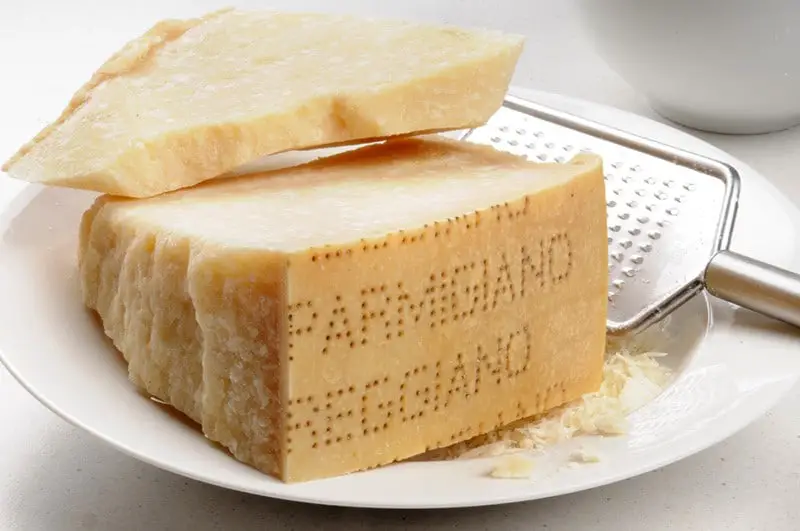 Now, welcome to Italy. Having a reputation for cheese-based recipes like pizzas or pasta, it is understandable that Parmigiano-Reggiano cheese has become the staple in every Italian kitchen.
People call Parmigiano-Reggiano the King of cheese for a reason. Every single bite of this cheese leads you to a wholesome farm-to-fork journey.  Start with a dominated nutty and fruity flavor, drive to an umami touch, and end with a slightly sharp aftertaste. 
You'll never forget the aroma of butter and roasted almonds still lingering in every taste bud. With such a high quality, Parmigiano-Reggiano can take the place of any cheese in any recipe, regardless of dressing, uncooked or cooked dishes.
This cheese is carb-free, lactose-free, and low in fat, leading to various health benefits. You can gain a great amount of vitamin A, B6, and B12, zinc, and copper from this nutritional powerhouse.
#7. Manchego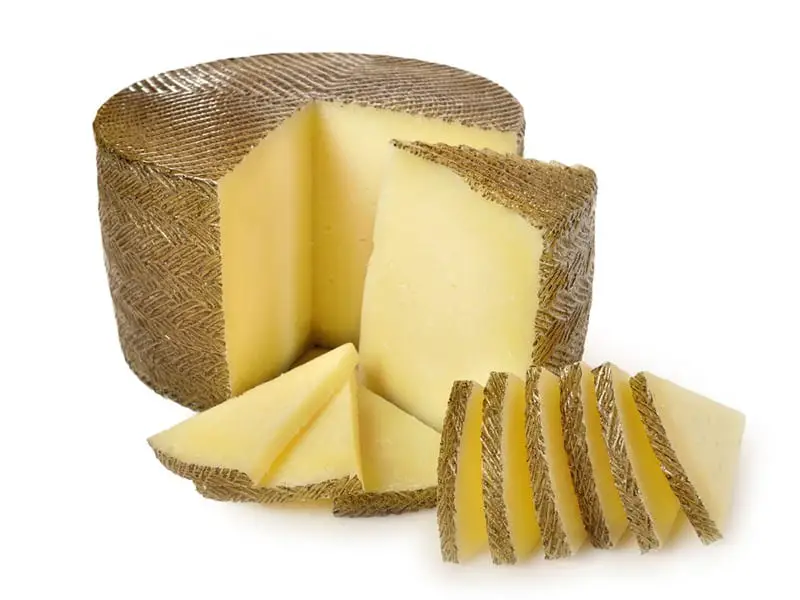 Manchego is a "brand new" cheese from Spain. The first evidence of Manchego cheese making was in 1984, and unlike the above types, it came from sheep's milk, not cow's. 
This cheese offers an ideal balance between sweet and savory taste, along with a hint of fruity and nutty flavor. You can use Manchego in salads, sandwiches, or soups like Emmental, but it is best served when grilled. 
Manchego cheese also welcomes honey, almond, marmalade, strong red wine, crusty bread, or dry sherry. You'll also want to pair it with sun-dried tomatoes. 
It will add a nutty and salty kick to the sweet-tart tomatoes that can make you mouth-watering. If you find it hard to get your hands on this ingredient, be confident that all sun-dried tomato substitutes work just fine.
This tasty cheese contains tons of vitamins, including vitamins D, A, and E. They are vital for your metabolism, boosting the body's growth, calcium absorption, and tissue repair at any age.
#8. Brie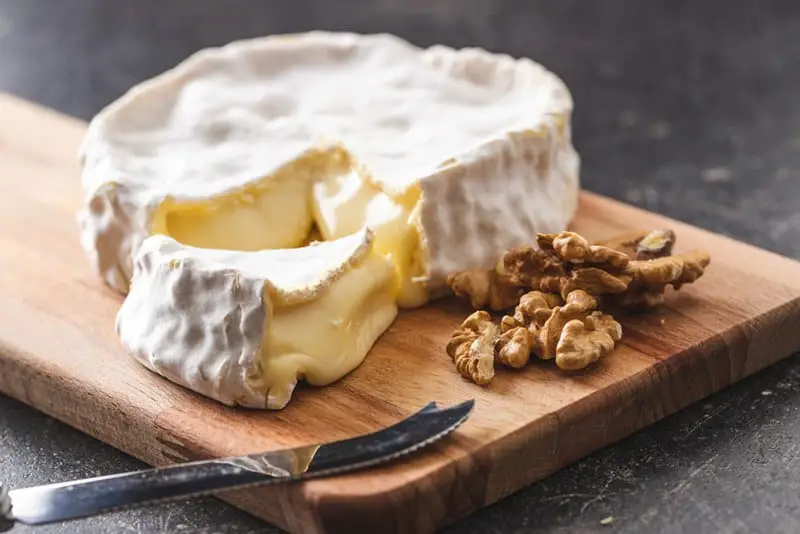 Legend has it that Brie is the ancestor of the cheese family, first being served in France in the 8th century – the Middle Ages. Brie's taste today is somewhat weaker and milder than in the past since it is made from pasteurized milk.
Brie is pale and soft-ripened with an edible moldy rind. You will experience a nutty, earthy, and creamy flavor with a salty undertone. Due to its soft texture, Brie cheese does its best in recipes requiring melted cheese and opens to wine, fruits, and nuts.
We have to admit that Brie is super nutrient-dense, delivering fat and protein along with vitamin B12, riboflavin, and calcium. You can expect 100 calories per one-ounce serving of Brie. Protein and fat are linked to satiety, aiding appetite control and weight loss.
#9. Fontina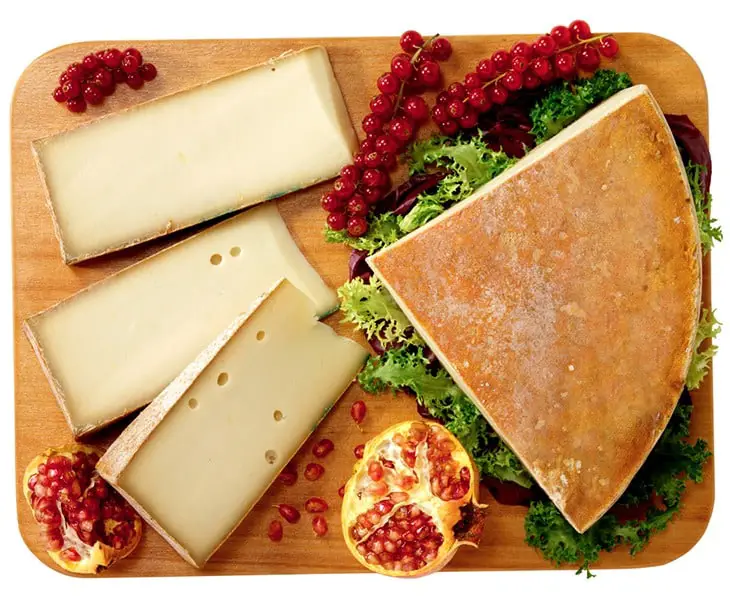 Let us take you to the charming Aosta valley of Italy, where lies lush meadows to feed cows for their freshest and richest milk. And that's how Fontina cheese came to the world. 
This cheese has a twist in flavor, giving you a combination of pungency and sweetness and revealing a hint of roasted nuts and butter. 
You can top it on pizzas or make any topping. Its creamy texture will melt well like Emmental cheese and shine in sauces, soups, chowders, and proteins.
Fontina cheese is rich in selenium with antioxidant properties, strengthening your immune system. Even better, it also offers beneficial natural fats, protein, and omega-3, reducing energy absorption and blood pressure.
#10. Edam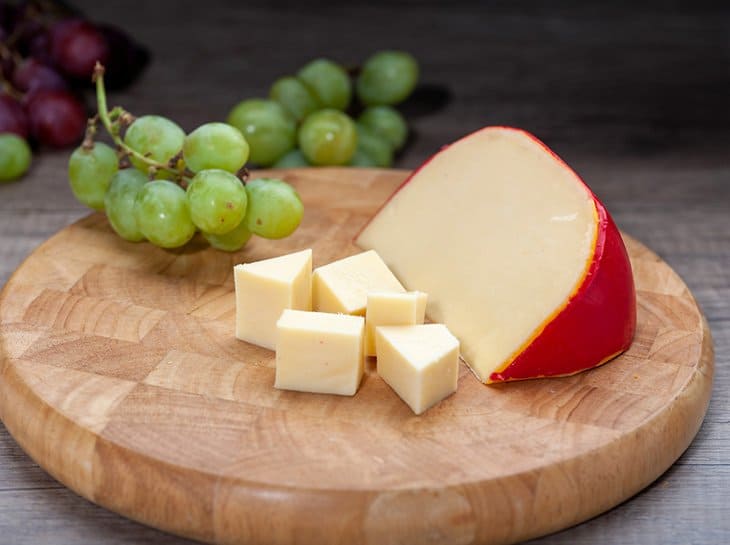 Edam cheese has a Dutch root, coming from the northern parts of this country. Young Edam has a fresh, nutty, and creamy taste and becomes drier as the cheese ages.
You can replace Emmental cheese with this Dutch cousin in soups, sandwiches, or salads. Also, young Edam cheese glorifies the freshness of rich fruits like cherries, peaches, apricots, etc. Meanwhile, aged variants shine when paired with pears or zesty apples. 
Aside from being a great source of protein, you can find vitamin A, Bs, calcium, and potassium in Edam cheese. This index leads to healthy bones and teeth and spares amazing protection against heart disease.
#11. Raclette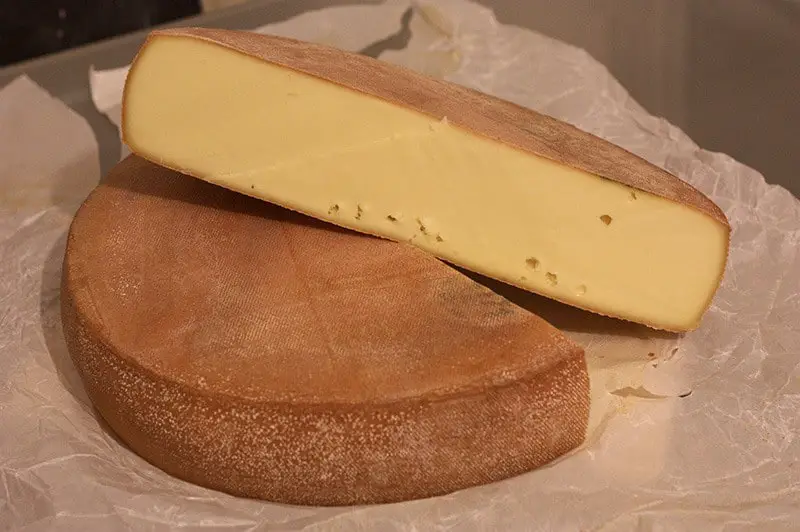 Raclette cheese also belongs to the Swiss branch, first recorded in the 19th century. This fantastic cheese brings about a creamy texture and a salty tone with a trace of sweet and nutty flavor.
The creamy cheese can be served raw, melted, or cooked. You can couple it with vegetables, potatoes, cured meats, and seafood as well. 
Raclette cheese is sugar-free, carb-free, and high in protein, which is a blessing for dieters. A regular intake of this cheese also offers you calcium and vitamin A, doing wonders for your eye and bone health.
#12. Provolone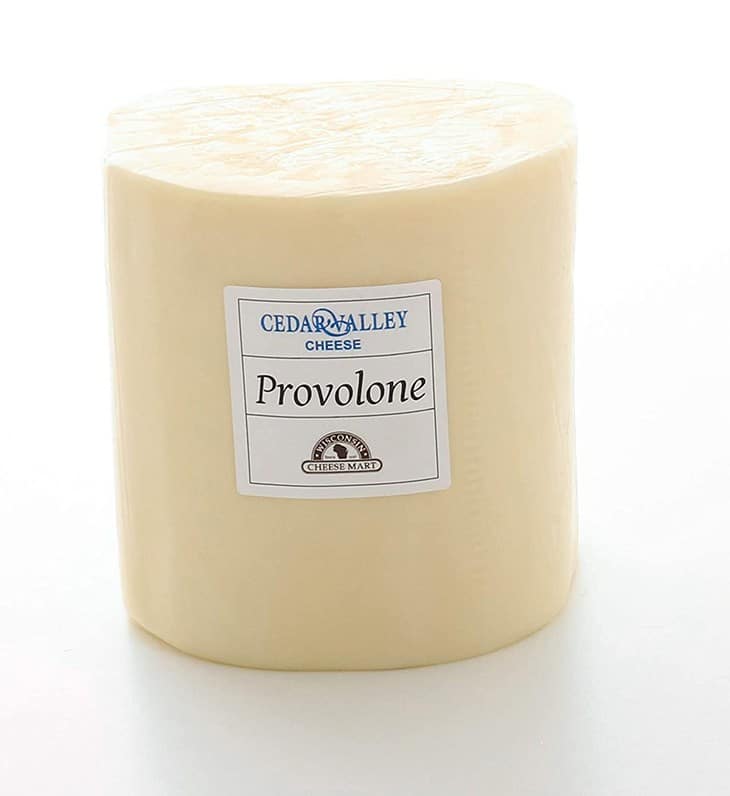 Provolone's birth was traced back to the 19th century in a valley named Po of Italy. Cows raised alongside the Po river producing the freshest milk are the secret of making this creamy cheese.
Its taste is milder than Emmental but delivers a salty and nutty undertone, making it easier to replace the Emmental cheese in any recipe. You can encounter Provolone in pasta, pizzas, salads, and sandwiches.
Vitamin A found in this cheese not only supports healthy eyes but also regulates cell division, bone growth, and cell differentiation. But you'd better keep the dose moderate since there is also an excessive amount of sodium and saturated fat in Provolone.
#13. Taleggio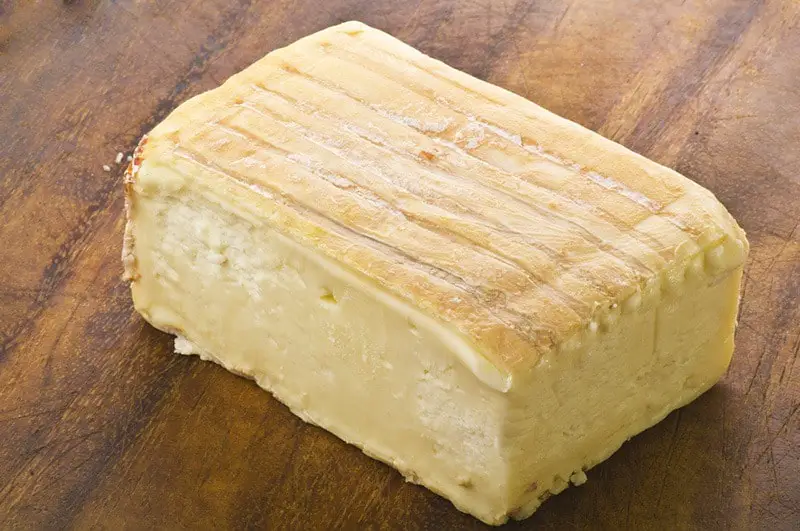 Taleggio is an ancient cheese, first appearing in the 10th century in Italy. You will notice its contrasting texture with an edible coarse coat leading to a smooth and creamy consistency inside.
It gives you a strong aroma, a buttery and fruity flavor, and a signature tangy aftertaste. You can use it in salads, sandwiches, sauces, pasta, bread, etc. 
Taleggio is a good friend of your heart. It boosts the good cholesterol (HDL) and levels down the bad cholesterol ( LDL). Also, your bones will be thankful if you frequently consume Taleggio with its high calcium content.
#14. Havarti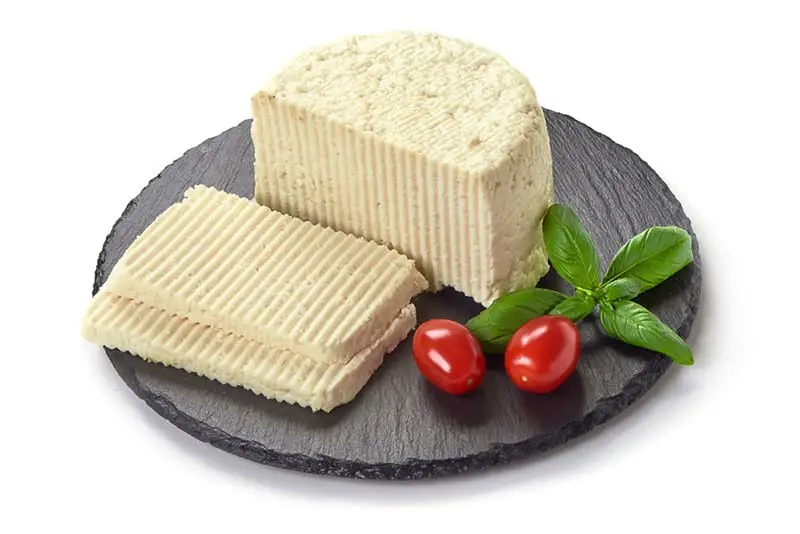 Havarti is a candidate from Denmark. Originating in the 1800s, it soon gained its popularity and became a star in many Denish cuisine. 
Havarti has a pleasantly balanced flavor profile, making it easy to replace any kind of cheese. You can enjoy an acidic and sweet kick along with a nutty undertone. Use it in salads, pasta, sandwiches, pizzas, or sauces when the recipe calls for Emmental cheese.
One ounce of plain Havarti delivers 70-80 calories and about 6 g of fat. And like any other member of the cheese family, Havarti is prized for its calcium. But this can be a trade-off for high-fat content. So remember to consume it moderately.
#15. Violife Original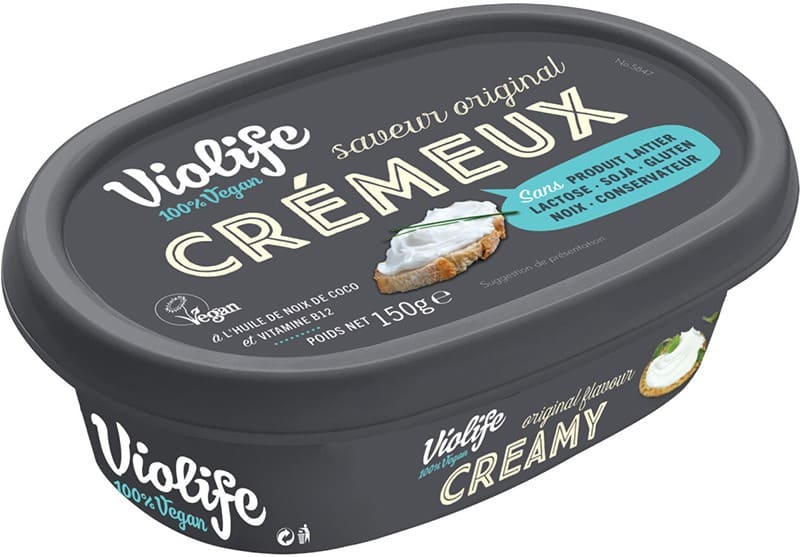 Are you a vegan and want to seek an Emmental cheese substitute? Here comes your savior – Violife Original. This non-dairy cheese was made to fulfill your vegetarian journey with a nutty and buttery punch. 
Made from salt, starch, coconut oil, and no GMO ingredients, Violife Original still lives up to the "original flavor." It can pop up in sandwiches, grilling, crackers, rolls, or any desserts. 
With coconut oil content, this cheese will generate more saturated fat that lowers the risk of heart disease. In particular, one ounce of Violife cheese contains 4.2 g saturated fat and 57 calories.
Frequently Asked Questions
We will help you find out the answers to some common questions, thus allowing you to understand the benefits of Emmental cheese plus how to store and cut it properly.
What are Emmental cheese and its health benefits?
Let's bring a flashback to the time Emmental cheese was born. Back in the 13th century, people in the Emme valley of Switzerland made the first Emmental cheese from raw and unpasteurized cow's milk.
This cheese comes with a dense and firm body covered with an inedible, hard rind. Tasting this cheese can be one of the best experiences in one's life – a unique fruity, buttery flavor with a trace of hazelnuts.
Studies prove that bene-bacteria in Emmental cheese link to various health perks. It lowers inflammation to ease muscle pain and joints, which is a blessing for those with long-term health problems and injuries. 
Also, your immune system will benefit from this cheese to help you fight off infection and disease.
How to store cheese correctly?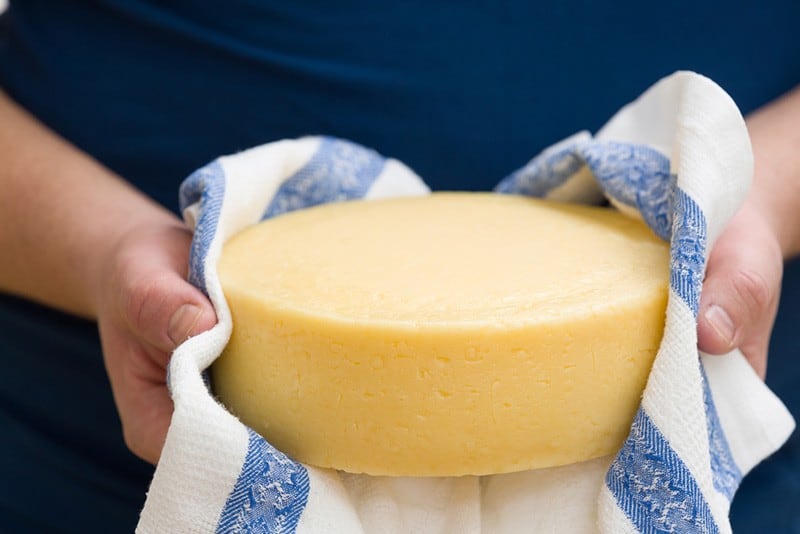 Say no to plastic wrap
Plastic wrap is so airtight that the cheese can't breathe and locks in lots of moisture. So, its flavor and texture won't remain.
Use aluminum foil or cheese paper
Using these wrapping ensures the right level of moisture inside, allowing the cheese to breathe and not dry out. Remember not to wrap your cheese too tightly.
Change the wrapping after each use
It is worth noting that bacteria from other foods or your fingers will alter the cheese's taste and lifespan. Make sure you replace the wrapping after each use to keep the remaining flavorful and fresh for later use.
What is the right way to cut cheese for its best?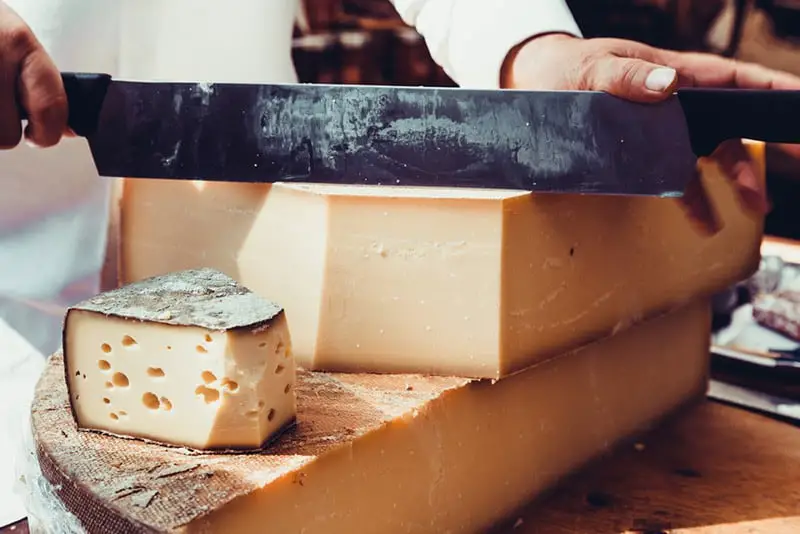 Round cheese
Cutting round cheese is like cutting a pie. Cut the cheese in half at the center. Then cut the two halves in half again. Just repeat this step until you find a proper size.
Block cheese
Cut the block in half lengthways. Then, slice the two bars into small-sized portions horizontally. Avoid cutting the cheese too thin since it's prone to drying out and harder to cut equally.
Triangle cheese
First, you cut the tip off (it's optional; you can leave the tip if you want). Then, slice lengthwise from the back to the tip (or the part you have cut the tip).
Conclusion
That's the end of our story about cheese. Have you picked the right Emmental cheese substitute yet? Though it can't live up to the original flavor, a twist in your dish will satisfy you.
You can also be creative and use other kinds not from the list, as long as you are satisfied with the result. Give them a try and enjoy the fresh wind.
Related Posts: