Tomato puree is such a great ingredient in cooking. It adds so much flavor to the food and makes them look appealing with just some simple steps. So far, we primarily use tomato puree to make dips and sauces for popular dishes such as pizza, pasta, fried food, or so many healthy recipes. We also use it for soup, marinating food, and making homemade barbecue sauce.
Yes, tomato puree is the perfect match for those recipes above, but sometimes you will be out of it. Then what are the best tomato puree substitutes to use in such situations? The alternatives mentioned below come from different types of tomato-based products and some non-tomato ideas for those with trouble eating tomatoes. Also, we will provide some tips for a better substitute so continue with us.
What Are The Differences Between Tomato Puree, Paste, And Sauce?
Since many of us may get confused between those definitions, let's separate tomato puree from tomato sauce and tomato paste first.
Tomato puree: It is made by slightly cooking and straining the tomato. It tastes close to the fresh tomato with no seasoning added.
Tomato sauce: It is also made of cooked, strained tomato but with a thinner consistency and some seasonings added.
Tomato paste: It is a super-concentrated tomato sauce with a longer cooking time and has a dried tomato flavor.
Tomato Puree Substitutes With Tomato Forms
First, let's go through tomato-based options for your dishes. Since they have similar characteristics, they will help us maintain the flavor and nutrition while replacing the other.
1. Tomato Paste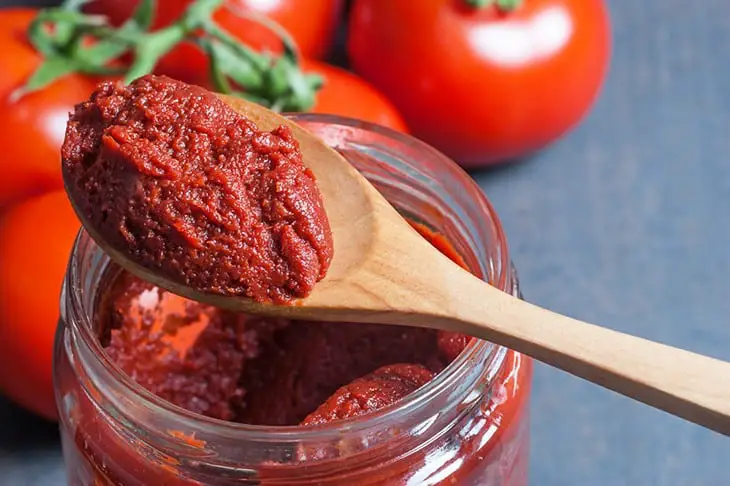 Thanks to the approximate texture and flavor, tomato paste is the best tomato puree substitute for your dishes. You can use it as an alternative to tomato puree for almost all recipes without changing the flavor.
Since tomato paste has a high level of consistency and comes in large volumes, you should add water to make a perfect match. Stick to the ratio 1:2 of tomato paste and water to have the approximate texture and thickness substitute for tomato puree.
Tip for a better substitute: Normally, both tomato paste and tomato puree taste initially, then you can add seasonings for more flavored. To avoid any metallic smell from the can used for storing tomato products, heat the puree with little oil for some minutes.
---
2. Tomato Sauce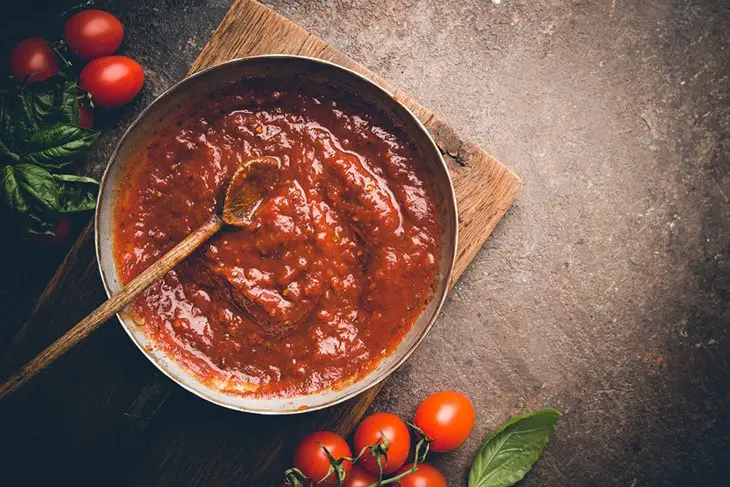 Another clever tomato puree substitute is tomato sauce. But with some differences in flavor and thickness, we will have some notes for you.
Since tomato sauce is often seasoned while the puree is plain, there will be a slight change in taste when using this substitute. If this matters, you should think of lowering other seasonings in the recipe.
Tip for a better substitute: As mentioned above, the tomato sauce is a bit looser than the puree. For the thickness purpose, cook it for several minutes to reduce the volume. To ensure the amount of tomato, consider adding more sauce to the same quantity of the puree.
---
3. Canned Tomato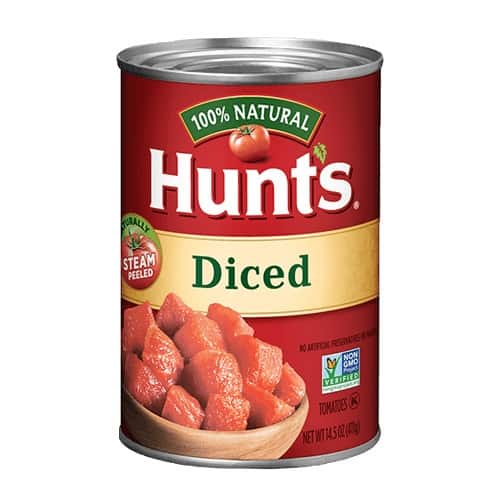 A can of tomatoes also works well to substitute for tomato puree when you want to maintain the flavor as much as possible. Like the puree, this tomato-based product is often unseasoned. So you don't have to worry if there will be any effects on the food's flavor.
Tip for a better substitute: As canned tomatoes always go with a lot of liquid, you should remove them and use the solid only. Then just blend them to get the ideal alternative for your favorite dishes. Typically, you would need the double quantity of canned tomato for a unit of tomato puree.
---
4. Fresh Tomato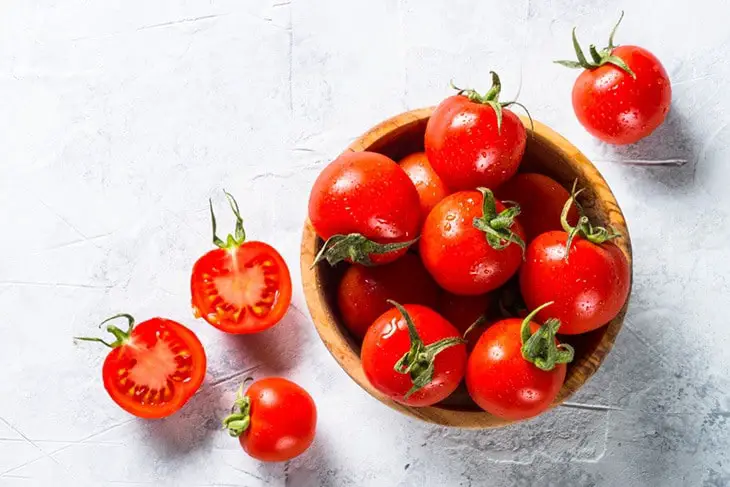 Despite some inconveniences, this is still a favorite option for tomato puree substitute because fresh is always better. Also, making the product yourself will ensure health benefits because you now control all the ingredients and processes.
Here you will need some time to prepare for the substitute. First, chop the tomatoes or use the whole and cook with water for about 10 minutes to concentrate the flavor. Then, let them cool down and finely ground them through a blender. You would need a medium tomato to have a tablespoon of tomato puree.
Tip for a better substitute: Since the simmering process helps concentrate the tomatoes' flavor, consider increasing the cooking time above 10 minutes for the thickness and intense taste. Do it if you do not hurry, of course.
---
5. Ketchup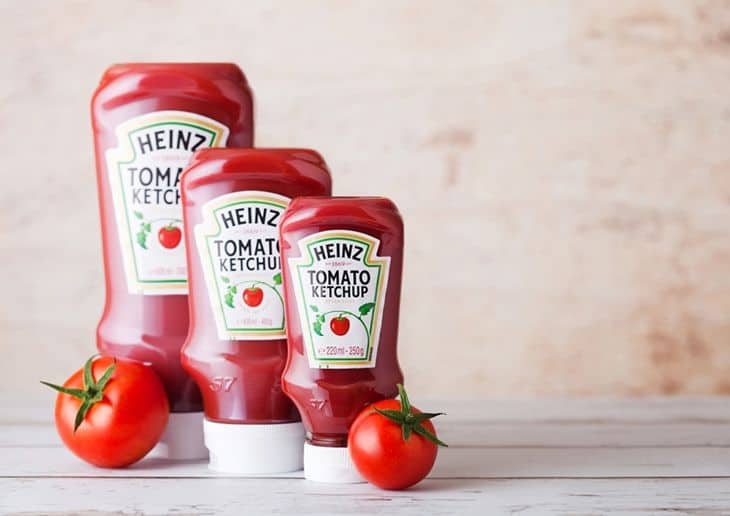 One more quick and convenient replacement for tomato puree is ketchup because they all come from the same source. As we almost already tasted it, we know that the ketchup is seasoned and spiced. Meanwhile, the tomato puree has an original flavor, so there will be some differences in savor for sure.
Notes: To use ketchup as an alternative for the tomato puree, consider adjusting other seasonings in the recipe.

In other cases, when you love the flavor of ketchup or just need a pinch of it, feel free to add it to your food.
---
6. Pizza Sauce or Marinara Sauce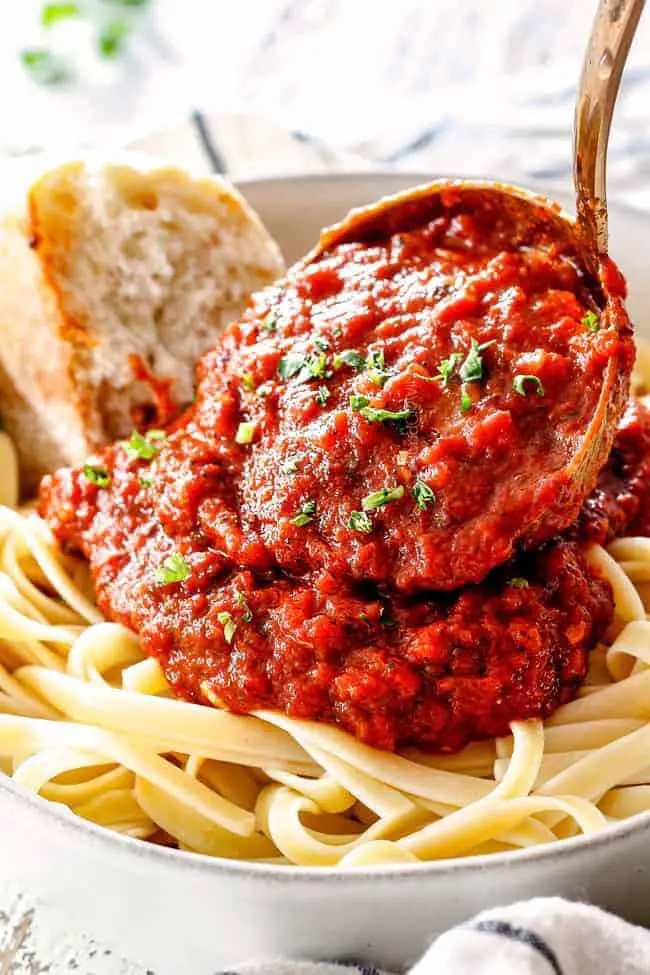 Since both tomato puree alternatives come from tomato, it makes sense to use them instead of the puree in some cases. But first, what are they?
Pizza sauce is a flavored tomato-based sauce made of tomato and seasonings. We all may have tasted it before because it is often used as a pizza topping or dipping. It is a little thicker than the puree.
Marinara is a tomato sauce but simpler and quicker to make. It goes with additional seasonings such as garlic, crushed red pepper, and herbs. It takes about an hour to cook the marinara sauce, while it may take hours in the case of tomato puree.
Notes: As those sauces are flavored, they will change the taste of the finished dishes. Make sure you adjust the recipe to work with their characteristics. Typically, the ratio of 1:1 between tomato puree and those replacements is okay.
---
Tomato Puree Substitutes With Non-Tomato Options
Yet, we discussed many tomato-based substitutes for tomato puree, and all of them make great matches for your needs. But what if you have some trouble eating the tomato and still want to make recipes that call for this? Don't worry! We have some non-tomato options for you down below.
Note that those ingredients are not tomato-based, so that the taste will be a lot more different, but all are high nutrient foods. So if you're not afraid of changing the flavor, proceed to add those substitutes to have the best nutritious meals.
1. Red Pepper
One of the best non-tomato substitutes for tomato puree is red pepper. It is a brilliant ingredient for soup, salad, and many stir-fried dishes. It won't give you the same flavor compared to tomatoes, but it does offer a red color and thicken your food.
Red pepper is an excellent source of vitamins (especially A and C), minerals, and antioxidants for your body. To make the substitute, slice them, boil or roast them in the oven, and puree them to be a red sauce.
---
2. Pumpkin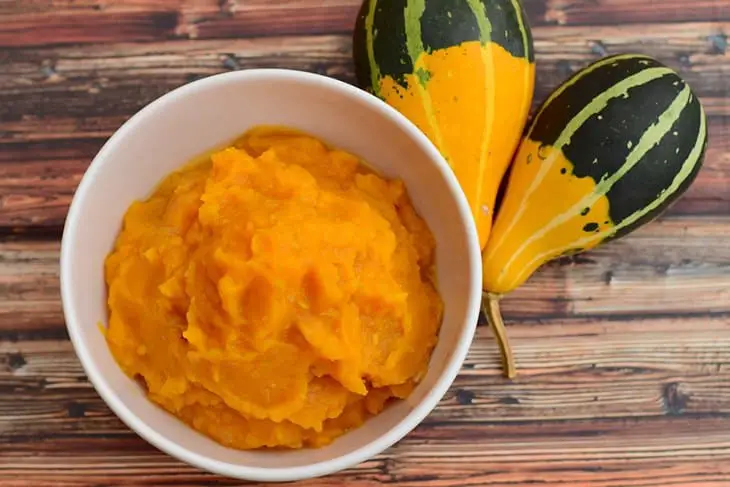 Another high-nutrition replacement for tomato puree is pumpkin. It is commonly used for both main dishes and desserts thanks to its low level of calories. With this replacement, you will get a beautiful orange color for your meals.
This veggie has an impressive nutrition profile that contains many beta carotene and vitamins A, B, C, E. All of them are crucial for your skin, eyes, and brain. To make the substitute, you can use fresh pumpkin or canned products with the same method of tomato forms above.
Besides, pumpkin puree is available on the market, so you can store some to use conveniently.
---
3. Carrot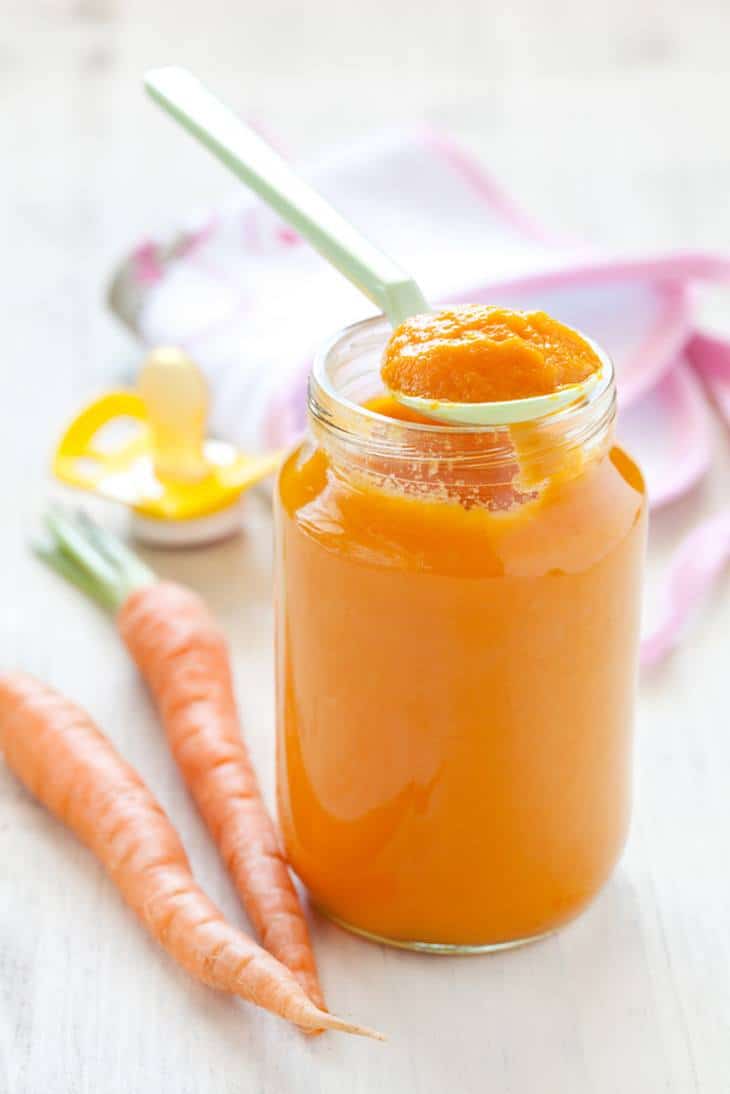 Carrot is also known as a clever substitute for tomato puree. It is such an excellent ingredient for smoothies, soups, and stew recipes. With the sweetness of an orange veggie, it will add a fresh flavor to the finished foods.
No doubt that carrots are tasty and highly nutritious. This veggie is high in beta carotene, vitamins, fibers, and antioxidants. In addition, it is a weight-loss-friendly ingredient in our diet thanks to the low-calorie level.
To make the substitute, cook chopped carrots with oil and water. Next, add some onions for tastier and simmer the mixture for 20 minutes. Then, put them into a blender and make your best substitute.
Note: Since the three substitutes above don't have acidity like tomato, you can add some vinegar to make the closest fill-in for your food.
---
4. Green Salsa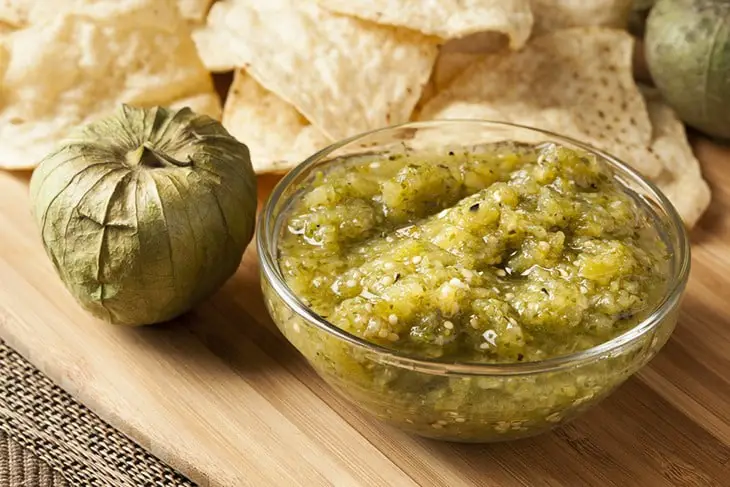 Green salsa (Salsa verde) is a famous sauce in Mexican cuisine. It comes from tomatillo that has a close taste to tiny green tomatoes. Hence, this is an ideal alternative to tomato puree when the recipes don't require a red color.
Compared to tomato puree, this sauce has a similar thickness but slightly different flavor. As green salsa is tart and spicy, remember to adjust other seasonings in the recipes. Typically, the quantity ratio is 1:1 for this replacement. 
Frequently Asked Questions
Is Tomato Puree Good For The Skin?
The answer is yes. Thanks to their high lycopene concentration, tomatoes give us an excellent antioxidant to make our skins brighter and healthier. Moreover, since the puree originated from tomato without ingredients added, it remains those benefits of fresh tomato.
Tomato puree helps enhance our skin in many ways. Apart from eating, you can use tomato puree as a face mask. Besides tomato plain, you can add some ingredients such as honey, lemon, or coconut to make the cover work better. Typically, homemade tomato puree is the safer choice for your skin.
Do I Need To Cook Tomato Puree?
Tomato puree is a ready-to-eat food, but it is not commonly recommended. Uncooked tomato puree is pretty sour and has a rough flavor, especially when used as a sauce. Thus, if you have time, simmer it for several minutes to increase the taste.
Is It Ok To Eat Tomato Puree Every Day?
Believe it or not, eating tomatoes every day can increase our protection from cancer. The reason is the lycopene mentioned earlier is reported to lower the cancer cells. Besides, tomatoes contain a high level of vitamins, fibers, and antioxidants which help your body function better.
However, it's not good to have too much of one thing. The ideal daily serving for adult people is one whole tomato, 200g of chopped tomatoes, or two teaspoons of tomato puree.
Can I Make Tomato Puree At Home Without Preservation?
Of course, you can make it. You would need some fresh tomatoes and places to store them. Here are the basic steps:
Preparing tomatoes: For every cup of the puree, you should take five medium ripe tomatoes. After washing them, use a knife to have a criss-cross cut on the top.
Blanching: Add tomatoes into the water in a big pot and heat them. Make sure the tomatoes are immersed in water to be fully cooked. Put some salt and simmer the mixture until the tomatoes turn tender.
Peeling and cutting: After blanching, take tomatoes out and let them turn to room temperature. Next, remove the layers and cut them into halves or smaller pieces.
Blending: Put them into a blender and blend until pureed.
Now you have the homemade tomato puree for your favorite dishes. For storage, put them in cans or zip bags and store them in a low-temperature condition. As a preservative-free product, the puree can last 12 to 15 days in the refrigerator and several months in the freezer.
Conclusion
We've gone through the most favorite substitutes for tomato puree. With various options from both tomato and non-tomato resources, we hope to make your daily cooking better and easier.
If you have any questions for us, simply leave us a comment down below. Also, don't forget to explore our website for further helpful information related to the substitute topic. We hope you will have the best meals.